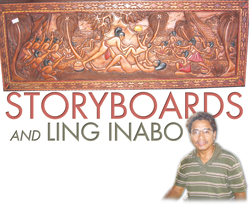 Koror— Since 1998, Tebang Shop has been serving as a foundation that keeps a Palauan tradition alive. The shop specializes in the iconic Palau storyboard, and its owner, master carver Ling Inabo, seeks to build the next generation of woodcarvers.
Although storyboards are popular among tourists, the business aspect doesn't guarantee a windfall. Tebang makes between $3,000 and $5,000 a month, just enough to keep the shop afloat, Inabo said. Tebang usually gets custom-made order from other shops and government agencies.
Woodcarving is more of a passion for Inabo. Although he has kept the shop open for many years, it doesn't make enough money to send his children to school. "But I am happy to come to work in the shop from 8 a.m. to 5 p.m.," he said.
The storyboard carving art has evolved throughout the years. The earlier storyboards were simply square-shaped pieces of wood. Inabo later diversified his designs by carving different shapes like fish.
Before opening the Tebang shop, Inabo was in the nightclub business, a money-making venture. He later decided he wanted to cash in on his talent for the arts, so Inabo opened the shop. Nineteen years later, the shop is still standing. In 2013, the shop's second floor was destroyed by typhoon Haiyan in 2013, the business went on.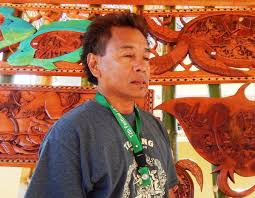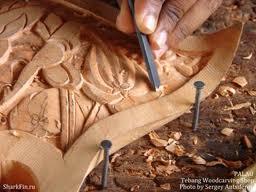 Inabo also keeps the shop to teach young Palauans and foreigners to learn the art of carving, in fact once they finished a carving, he would immediately pay them for their piece and sell them afterward.
Access :


Darwin "Ling" Inabo
Woodcarver
He started carving storyboard right after High School. He lived in the Island of Peleliu, Palau until he was 11 years old and then went to live in Guam. Though he attended high school in Guam, every summer he usually came to Palau to visit his father Katsumi Inabo and learn carving from Baris, a great storyboard carver during his days.Being an artist , He always garnered top awards in his art classes and went to college majoring in art. He got a Bachelor of Fine Arts degree in Art Education from Wayne State College in Wayne, Nebraska USA and came back to Guam.
He taught for a while Art classes at the Simon Sanchez High School in Guam. After a few years Ling went back to Hilton College of Hotel & Restaurant Management at the University of Houston (Houston, Texas USA) and got Bachelor of Science degree in Hotel & Restaurant Management.
Throughout his college years, he always carved and sold storyboard to support himself. After University of Houston he came back to Palau and went to work at the Palau Pacific Resort as management trainee for a few years but did not find it to be his passion like carving storyboards. He then left Palau Pacific Resort and started his own Tebang Woodcarving Shop. It has been over 15 years and he is still enjoying carving storyboards.